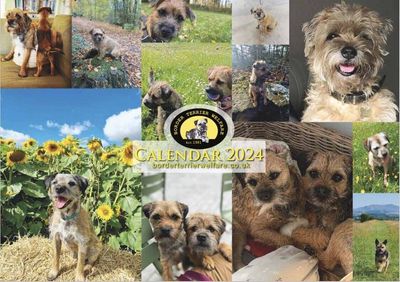 BTW Calendar 2024
BTW
£10.00
2024 Border Terrier Welfare - IN STOCK, SHIPPING NOW!
With over 700 copies sold of our 2023 edition, our popular BTW Calendar is back for 2024, once again filled with your amazing Border Terrier photos!
The Calendar is A4 landscape which, when open offers a double page spread, the upper page displaying all your lovely Border Terrier photos with a Feature Star on each page. The lower page shows a month to view, with space to write those all important reminders, birthdays, gotcha days, treat days . . . which is every day, right?!
Purchasing multiple copies of our Calendar:
We've managed to hold the price at £10 per copy for our 2024 BTW Calendar, however our standard shipping covers up to 3 calendars per order. If you are ordering in bulk, then we would be grateful if you could help us out by contributing towards the additional postage:
4 - 9 Calendars + £2.00
10 - 15 Calendars + £4.00
Please add the postage as appropriate to your cart by clicking on the Extra Postage product.
This can be done by clicking on the Xtra postage product (in the 'You may also like . . .' list to the left of this text) and select the additional postage for number of calendars you are purchasing.
Pssst! Did you know there are still a few 2023 Calendars available if you missed it, or want a clean copy to keep for posterity . . . and they're on sale too! Check them out here
Please Note: This is not the BTPosse Calendar - if you are looking to purchase their calendar (which is also sold in support of BTW), please visit our BTW Merchants page for details & link to purchase.
SKU: BTW-CAL-2024-2